Breathe
by
Kristen Ashley
My rating:
5 of 5 stars
Another
6 star
book from Kristen Ashley!!
This book was probably the most emotional reading experience I have had all year. So beautiful, so heartbreaking, so uplifting. My emotions have run the gamut, and after reading this book I am completely convinced that Kristen Ashley is a Goddess among women, and has now rocketed up to the top of my favorite author list.
I have to admit, the previous book in this series
Lady Luck
was my least favorite. Not that I didn't end up enjoying that book, because I definitely did. My main problem was the fact that I wasn't able to connect to the hero Ty, in the way that I had with the leading men from the first two books in the series. But having said that - one of my favorite things about Lady Luck was the glimpse we got to see of police officer Chace Keaton. In fact, one of the best scenes in that book was towards the end when Lexie is having lunch with Chace and notices the way he looks at the shy, quiet, librarian Faye. The level of emotion and longing that KA managed to covey in such a short scene with a secondary character was so moving to me. I absolutely could not wait to dive into Chace & Faye's story.
This may sound silly, but literally from the first chapter I could tell
Breathe
was something special. So much so that I attempted to read this book slowly in order to truly enjoy the story and the characters. While I am a newbie to the KA universe (this is the 4th book I have read by her) this was without question the best of the bunch so far and I could easily sit here and gush about every little detail that I loved about the book, but I will attempt to keep myself under control. Now, having said that...
I FRAKING LOVED THIS BOOK!!!
Soooo much to fangirl over, so little time....let's start with a girl after my own heart...
Faye
. KA has a habit of writing amazing female protagonists and I have to say, she outdid herself here. Faye is a librarian by profession, and a book nerd and geek at heart. She constantly has her nose in a book, she adores
Battlestar Galactica
,
Psych
&
Firefly
, has a crazy family and is a 29 year old virgin. And she has been carrying a torch for troubled police officer Chace Keaton for 13 years. I immediately felt connected to Faye for many reasons, especially because of her love for books and all things geeky. She was just a fantastic heroine and I loved her to pieces.
And then there's
Chace
.
*SWOOOOOOOOOOON*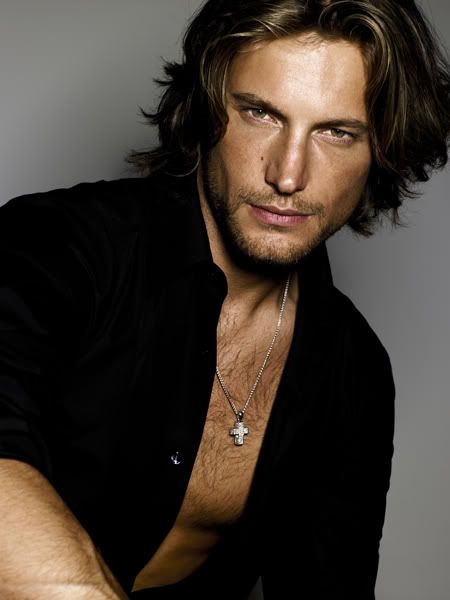 He has a troubled past and many demons. And thankfully KA didn't decide to make us read through hundreds of pages of angst while Chace battled his desire to have something good in his life. Almost from the beginning Chace decides he's not going to let anything or anyone stand in the way of what he wants. And what he wants is Faye.
The love story is pretty much perfect and Chace and Faye's chemistry is off the charts. She's goofy to his serious, and they make the perfect couple you can't help but root for. There are many things standing in the way of their happiness. But once again, I was so happy with the way KA handled the obstacles. All of the ups and downs of their relationship were handled in a believable way, and instead of needlessly ripping the two of them apart again and again just to add drama to the story, Chace & Faye handled everything thrown at them intelligently and most importantly, they handled the problems together.
As always, KA's knack of bringing us a cast of wonderful secondary characters holds true. It was wonderful seeing appearances by the main characters from the previous 3 books in the series (as well as a surprise appearance from a few favorites from another KA series).
I have to make special mention of the character of Miah. He was responsible for a lot of the tears I shed throughout reading this book. The story line involving him and his sister Becky were one of the things I loved most about an already beautiful book. But my gosh...the anguish I felt reading certain parts.
Some of my fave quotes:
"You're beautiful, a good kisser, this is our first date, my bed is in the room, I'm nervous as all heck and I just thought I was going to die after spitting out gum so no, I'm not all right."


He loved her calling him Chace.
But, her calling him honey was something else. Something pure. Something magical. Like the first snow of the season falling at night....
It was a little common miracle but even common, that made it no less miraculous.


"All mine", he muttered. "Christ, finally, all mine."


"You do not sleep without me" he paused then finished, "Ever."


The best heroes always have scars.
Now that i have finished this book, I definitely look at it as a gift. I have stated this in other reviews of KA's books, but she is absolutely responsible for bringing back my love of reading. I am so grateful to have discovered her books, and if there is one downside to it all...I am now a full fledged KA Addict and I know there is no cure in sight. But honestly, this is one addiction I can be proud of. :)