Painted Faces
by
L.H. Cosway
My rating:
5 of 5 stars
I would give this book 10 stars if I could.

I don't think I have ever been left speechless by a book before...but I honestly don't know if I have the words to express how much I adored this book and how much this story, and these characters meant to me.
I tend to be very picky with books lately. No matter how much I end up enjoying them, I can usually find at least 1 or 2 things to nit-pick about. I guess I just spend so much of my time reading that it takes a lot to impress me these days. Well,
L.H. Cosway
, color me impressed. Color me mind-blowingly, heart-warmingly, never-want-the-story-to-end impressed.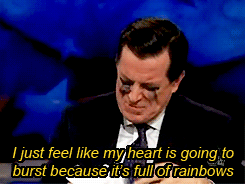 Others far more eloquent then myself have already written glowing reviews detailing how beautifully written this book was...how unique and special this love story turned out to be. All I can add to their praise is to say that this book was about as close to perfection as you can possibly get. I wouldn't change a thing about Fred & Viv's story. Other than making it much....much...longer.