Thoughtless
by
S.C. Stephens
My rating:
5 of 5 stars
This book...

This book was emotionally exhausting. I mean, I feel like I need a week in Hawaii to recover from reading it.
I had made several attempts at reading this book, before it finally took hold of my brain and refused to let go. For the longest time I just could not get past my true and abiding hatred of Kiera. Now, I know that sounds rather harsh...and truly, I very rarely use the word 'hate', but if ever there was a fictional character that deserved that emotion...it's Kiera Allen.
But, despite my attitude towards one of the main characters...at around the 25-30% mark...some kind of switch finally flipped for me. I couldn't get enough of this book. I was completely sucked into the story and became emotionally invested in this love triangle from the bowels of hell.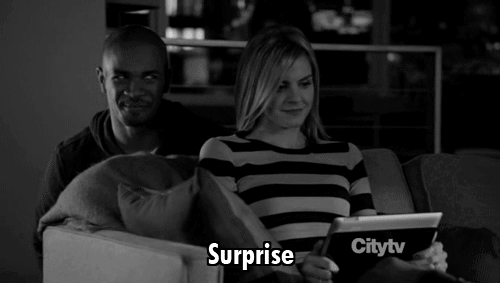 I felt a lot of emotions while reading this book. Possibly too many. There were times when I had to force myself to put the book down because I was getting so frustrated by what was going on that I actually gave myself a headache brooding over it all. How ridiculous is that?!
If i had to describe Kiera in one word...it would be
selfish
. From the very beginning Kiera is only interested in herself. She may pretend to be tortured by the thought of hurting both her boyfriend Denny and her 'lover in the nighttime' Kellan. But her narcissistic need to be the center of both men's lives proved otherwise. It is amazing to me that the girl was able to figure out how to drag herself out of bed in the morning on her own, since she seemed incapable of accomplishing the simplest tasks without either Denny or Kellan holding her hand.
**SPOILER WARNING**
My biggest pet peeve with Kiera is how blatantly she used both men. I mean...having wild monkey sex with Denny...knowing that Kallen can more than likely hear them going at it...and then acting hurt and confused when she realizes Kellan might be bothered by it? Not understanding why Kellan ran away when she and Denny got back together after the world's shortest break up? And yet...being highly indignant about Kellan having some wild monkey sex of his own when she had shoved the fact that she 'just wants to be friends' with him down his throat repeatedly? Yes...Kellan's manwhoring was over the top....way over the top TBH, but still... The way she continually played with Kellan's emotions only to end up pushing him away and running back to 'safe' Denny....made me sick. And here's where my headaches come in. GAH!!!!
I have a real problem with weak female characters in books. And Kiera is just about the most insufferable twit I have ever come across. Both Kellan and Denny deserved far better than her ass. So much heartache and pain could have been avoided if Kiera had just pulled on her big girl panties and
PICKED A PENIS
instead of stubbornly holding on to both for as long as she could.
Now...after having said all that, you may be wondering why the hell I gave this book a 5 star rating. It's simple. The story...made me feel. It made me feel waaaaay too much, but damn if it didn't stir up all kinds of intense emotions in me. Which, in the end, is the sign of a helluva good read. Which this...despite all my ranting and raving...definitely was.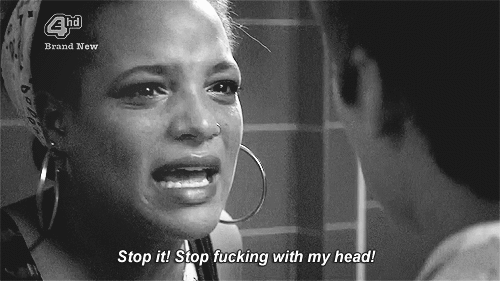 This booke made me groan, it made me curse, it made me want to punch Kiera in the vagina...several times.
But despite all of my issues with a certain character who I still consider to be Too Stupid To Live (I named a new shelf on here in her honor), I was completely swept up and riveted by this story. How I managed to survive the overwhelmingly torturous level of angst in this book boils down to two words:
Kellan Kyle.
Kellan is the insane cross between a
bad-boy rocker and a sweet & lost little boy
. He has the swagger of a rock star... but he's also incredibly vulnerable and insecure. He has manwhorish tendencies, but not because he's gorgeous and has women throwing themselves at him left and right...which is true on both counts. He allows himself to seek comfort in sex because it's the only time he feels like someone might actually care about him. And if that fact right there doesn't at once make you fall for this character and break your heart at the same time...well then you are a stronger person than I, that's for damn sure.
He captured my heart and then ripped it to shreds, made my pulse race and finally in the end...he made suffering through this roller coaster of emotions that this book brought out in me, soooo worth it.
View all my reviews